LoL..
To be truthfully honest, I have no idea what Sai Mai Loh stands for but it is a name of a dessert....
this dessert concept most probably comes from a restaurant named KTZ whose original branch is actually a road side stall in Kepong called Kei Tak Sek (translation: Remember To Eat).
From their humble beginnings they've expanded to several places in KL including OUG, Imbi and SS2. KTZ is famous for their Sai Mai Loh, which is basically shaved iced with fruits.
Yea, I know when I said it is just a shaved iced with fruits, a lot of you must be thinking it is just another lame sort of
ice kacang
...
Cos, at first, that is exactly what I thought too when my brother told me 'bout it...
But it turns out that Sai Mai Loh is actually really delicious... LOL.. It doesn't taste anything like
ice kacang
at all...!!
What happens in a Sai Mai Loh is they put lots of shaved ice into a bowl, pour some fruit puree plus generous helpings of sago onto it and decorate it with fruit slices matching the puree.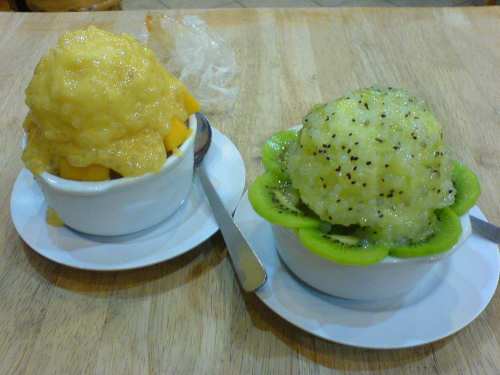 Mango Loh and Kiwi Loh...- rm 5.50
If you happen to be there, try out the Honeydew Loh.. I think it is the best among there...